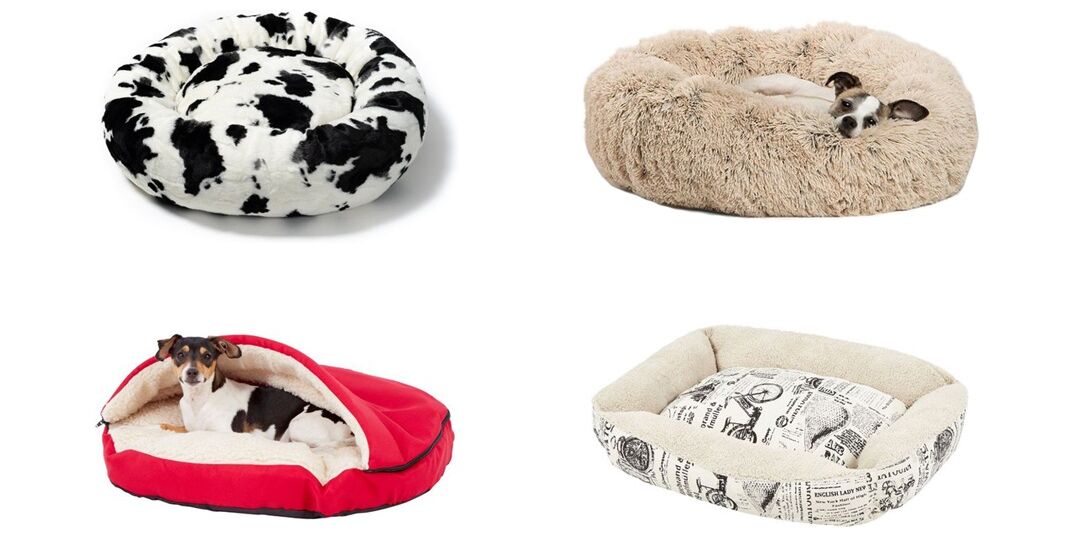 15 Cute Dog Beds We're Loving From Chewy
Disclosure: The cute dog beds below contain affiliate links, which means we may receive a commission if you click on a link. But don't fret, our dogs would never bark to us again if we were to feature anything we didn't genuinely love. Click the titles to shop!
Whether you let your dog curl up in bed with you or not, you have to make sure they have a comfortable bed of their own! Thankfully Chewy has pages of options that both you and your furry BFF will love. So grab your pup, settle in on the couch (bonus points if you're both bundled up in cozy outfits), and keep reading to shop our fave dog beds from Chewy!

This adorable bed is filled with 100% recycled eco-friendly microfiber and even includes a matching pillow in the shape of a bone! When it comes time to clean the bed, simply unzip the cover and put it in the washing machine and dry it in the dryer for hassle-free cleaning.

Your pup will love this magical little retreat! It's super soft and padded on all sides, and even has a removable cushion that provides support for naps.

This orthopedic bed is filled with supportive and cushioning convolute foam to help alleviate painful pressure on their muscles and joints. It's also topped with a silky-soft faux fur that stays warm in the winter and cool in the summer.

Out of all the cute dog beds on this list, this is the one to get… especially for anxious dogs. This self-heating bed features a unique insulation layer that radiates warmth from your pet's own body heat. It's also machine washable, dryer-safe and comes in a soft faux-shag material that will keep your pal calm and cozy.

Okay, there's a chance that you may also be buying this bed for yourself, too. This sweet little strawberry-shaped bed is lined with a soft, plush cushion, perfect for a midday nap or turning in for the night.

This cute newspaper-inspired dog bed is available in three sizes, so pups of every size can curl up and snooze away.

This plush, rounded bed features a slightly sunken center and supported bolstered edges that can be reversed! Oh, and if you're not a fan of the pink (we get it), there are plenty of other stylish colors available!

If your pup enjoys burrowing, they'll love this ultra-warm bolster bed. Just don't be offended if they'd rather nap the day away rather than hang out with you!

Okay, out of all the cute dog beds on this list, this one makes us tear up a little. Perfect for anxious pups, this pillow uses removable simulators to mimics the comforting sound of a mother's heartbeat and the feeling of her body warmth. It's also great for nuisance barking and difficulties with housebreaking, as it reduces stress.

If your pup likes a bit of privacy while they're counting sheep, they'll love this honeycomb bed! For more social settings, just press down the top and the hut transforms into a comfy bed!

With a unique dome top that mimics a den, this bright red bed is perfect for pups that love to get under the blankets in bed. It's lined with ultra-soft poly-Sherpa lining and can easily be transformed into a traditional bed by unzipping the dome.

This pet bed is available in two sizes and colors and includes a plush blanket, perfect for the home, crate, or even road trips! Best of all, it's machine washable for hassle-free cleaning.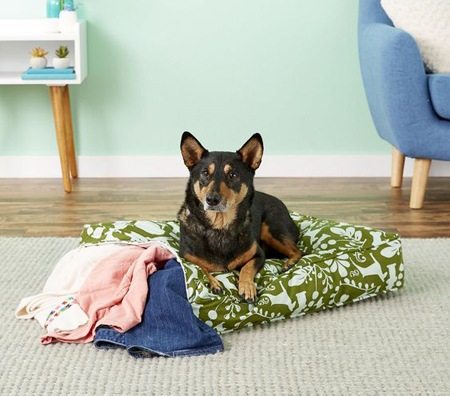 This eco-friendly duvet cover can be stuffed with old blankets, towels, pillows or sheets to create a comfy bed for your pup! And bonus: your dog will really love it because it will already smell like you!
When we treat our furry companions to something new, it's money well-spent. And when that money is going to support Black entrepreneurs and designers, it's even better. Check out some amazing Black-owned pet brands that we'll DEF be shopping when it's time to spoil our pups with toys, accessories and grooming essentials.