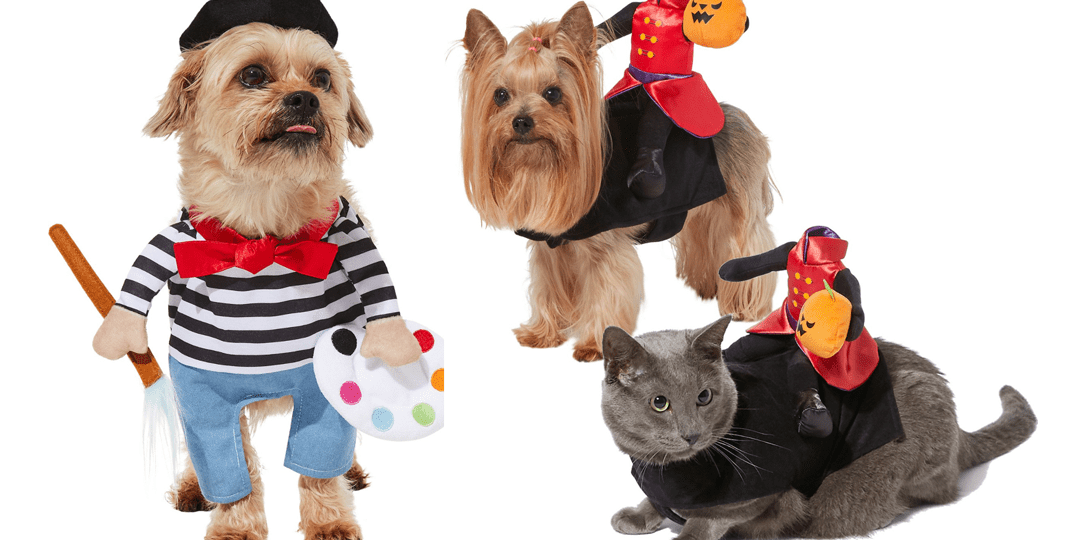 Hilarious and Cute Dog and Cat Halloween Costumes from Chewy
Disclosure: The cute dog and cat Halloween costumes below contain affiliate links, which means we may receive a commission if you click on a link. But don't fret, our dogs would never bark to us again if we were to feature products we didn't genuinely love. Click the titles to shop!
Sure, we love the fall for the cooler weather, colorful trees, chunky cardigans and pumpkin spice lattes, but nothing gets us more jazzed for the upcoming season than a dog or cat in a Halloween costume. Seriously, our phone screen time quadruples in October and we can blame all the animals we follow on Instagram dressed up as veterinarians, dinosaurs and sushi. (Also, if you haven't seen a dog in a donut and coffee costume, you haven't lived.) Looking to get your babe into the action? Check out a few of our favorite hilarious and cute dog and cat Halloween costumes from Chewy!

This cutie isn't going to fool anyone.

For us, it's the jeans.

He can turn any mouse into lunch with just one spell.

Can we taco 'bout how cute this little guy looks in his shell?

He wants… to suck… YOUR TREATS!

Is it cruel to dress your babe up as his enemy?

Totally scary, but still totally cute.

You sent him to culinary school for 3 years and he still only knows how to make bacon.

Pay your cat back for wearing this with some real tuna fish.

Denim and flannel? This might as well be a blog post about fall style!

He heard ghosts were made of chicken.

Or, if you're babes aren't into wearing costumes, get them a comfortable (but still festive!) reversible bandana.
If you liked this post, you should check out our Chewy Halloween post from last year!