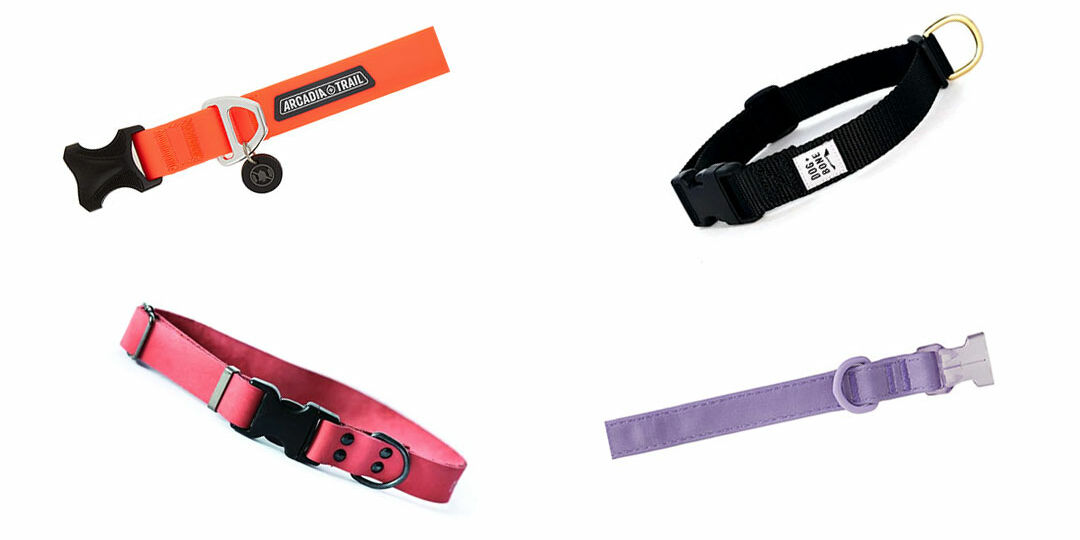 How to Pick the Best Collar for Your Dog
Disclosure: The items below on how to pick the best collar for your dog contain affiliate links, which means we'll receive a commission if you click on a link. We hope you like our picks – click or tap the titles to shop!
While a collar may seem like one of the easiest purchases to make for your pup, this essential part of your dog's wardrobe should take some serious thought! Style is certainly something to consider, but realistically the goal of a dog collar is to keep your pooch safe at all times, so comfort and durability should also factor into your decision. In honour of National Dog Day, we've rounded up some tips on how to choose the best collar for your dog and have given you options of some of our favs below!
1. Comfort
Hard plastic and metal are generally no-goes when it comes to collars. The number one rule of collars is that it should never rub, chafe, or pinch your dog's neck. If it is, it's time to toss it! Ideally, opt for something that's more flexible like nylon, leather, or neoprene.
2. Quality & Durability
Your dog's collar have to be able to withstand those daily walks and playdates with other pups. For the collar to last, look for ones that are rust-proof and are machine washable (or at least easy to de-mud with a cloth).
3. Safety & Size
Knowing how big your dog's neck is is key to having a proper fitting collar that'll ensure the safety of your furry friend.A poorly fitting collar can lead to your dog getting off-leash, which can be very dangerous if you are far from home or in a crowded or unfamiliar situation. The general "two-finger rule" is a good one to follow. When you put your dog's flat collar on, you should be able to fit two fingers underneath, between your dog's body and the collar.
---
Now that we've covered the basics on what to look for in a collar, here are our top 4 you may want to consider!
This Dog + Bone collar is an optimal, basic but timeless option. With a side release buckle, your pup will be safe and secured for all your adventures. It was designed with ease and simplicity in mind so we'd recommend this one for those owners looking for a basic, but reliable option.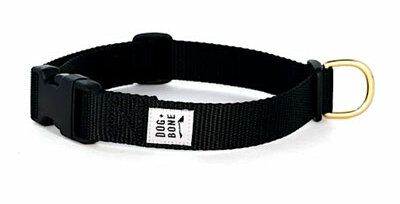 Enjoy your outdoor adventures with your pup without having to worry about them coming home with a ripe odors found in nature. This collar is made from nylon webbing, which doesn't attract bacteria. It will also bring you piece of mind with its colour, offering high visibility and even a tag to write your dog's name and your number – no getting lost here!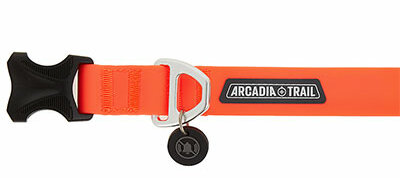 If you're looking for an option that's chic and durable, then this collar is for you! This Euro-Dog Sport Style Luxury Leather Dog Collar is a perfect combo of durable and stylish. With soft, full-grain American leather, this collar is super high-quality and bound to last.

Strong, sturdy, stylish, and fully adjustable, this Top Paw Neoprene Dog Collar had all the qualities to make it on our favs list. It provides a comfortable and secure fit, with a quick-release closure and D-ring option for leash attachment.

Learn how to capture your dog's paw-sonality in their new collar with these tips and tricks on how to capture the best photo of your pup!