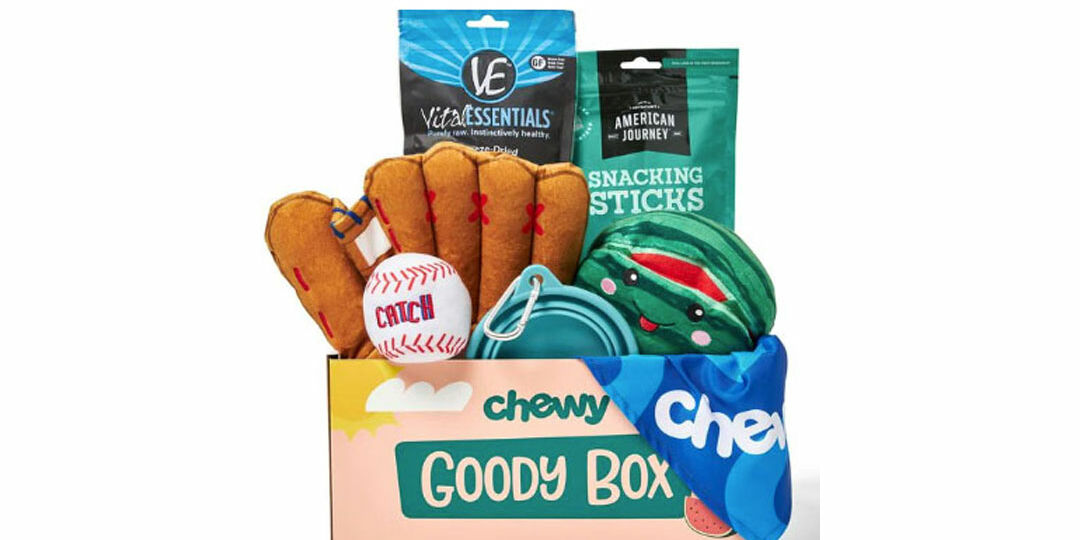 Chewy Goody Box Review
Disclosure: The items from the Chewy Goody Box below contain affiliate links, which means we'll receive a commission if you click on a link.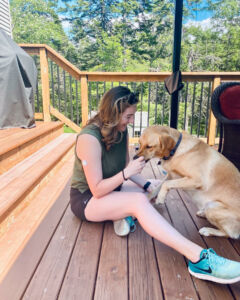 Hey there! I'm Hayleigh and this is Gemma, my three-year-old yellow lab/golden retriever mix. She's a spunky pup with an attitude all of her own! I was excited to have the opportunity to review the Chewy Goody Box – and so was Gemma! I couldn't think of a better dog to weigh in on their summer edition. She's particular and knows what she likes, so if it passes the Gemma test, any furry friend should be able to enjoy the Goody Box. For reference, she's a medium/large dog (maybe leaning heavier on the larger size, but don't tell her that) and weighs roughly 80lbs. She's super active and not a huge chewer per say, but she's certainly not gentle on toys!
---
About the Goody Box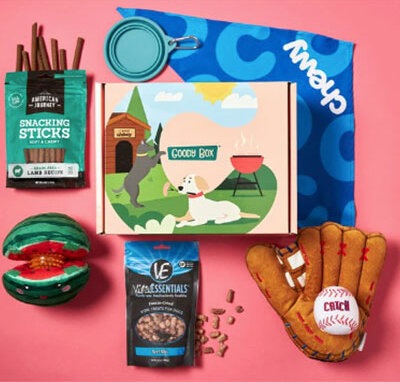 Chewy's Goody Boxes are specially curated pet gift boxes with premium products that are handpicked for either your cat or dog. Along with treats and toys, there are other nifty items all picked with the intention of creating the perfect gift box for your best friend. With loads of options and themed boxes, the Goody Box truly can take the guesswork out of shopping for toys and treats. Bundling an assortment of premium products can really help you save money (up to 45% off!), while gifting quality items. The best part? Where this isn't a subscription pet box, you can buy as many as you like for all the pet lovers in your life, whenever you'd like!
---
The Review
As soon as I received the Goody Box, I was immediately impressed by the packaging and the details on the box. This one in particular was the limited-edition summer-themed Goody Box, which was filled with:
Frisco Baseball Mitt & Ball Plush Squeaky Dog Toy
Frisco Summer Fun 2-in-1 Watermelon Dog Toy
Frisco Silicone Collapsible Travel Bowl
Chewy Bandana
American Journey Lamb Recipe Grain-Free Soft & Chewy Snacking Sticks Dog Treats
Vital Essentials® Freeze-Dried Beef Nibs Dog Treats
Honestly, I was shocked at how much was actually included in the box! I had an idea of what was to be expected, but sometimes with these types of gift boxes you're only given samples or small toys, but not with Chewy. It was full-size treats and toys, ready to be devoured by Gemma!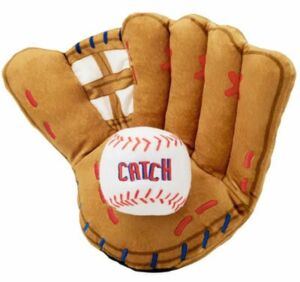 One thing Gemma always goes bananas over is squeaky toys – they're pretty much a staple must-have in her toy basket. When I picked up the baseball mitt, I was surprised to feel that there was a crunchy fabric on the inside of the glove in the fingers. The textured sound instantly got Gemma's attention and it wasn't long before the squeaker was found!
I liked how this was a 2-in-1 kind of toy, with the detachable plush baseball. While Gemma's retrieving skills are practically non-existent, I was hoping this may help kick it into high gear but boy was I wrong. Regardless of her inability to properly fetch the baseball when I threw it, she did enjoy having a nibble on it.
The toy was made of a very soft fabric, so it was easy for her to play with. Maybe even a little too easy, because within about 10 minutes, there was a hole in the webbing of the glove, but I anticipated that was coming! While Chewy doesn't recommend these toys for heavy chewers, she was still able to enjoy it with supervision and it was taken away before any fabric was totally ripped apart. But hey, at least she had fun!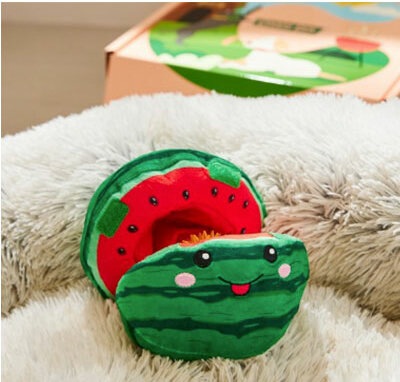 Like I mentioned above, Gemma is anything but gentle when it comes to toys. While it doesn't take much to entertain her, it's generally not too long before I have to swoop in and rescue the toy before the stuffing ends up all over my floor. But what I liked about this watermelon toy, was that the inside contained a hard plastic ball and was surrounded by what felt like tougher material. Yes, it wasn't long before the watermelon unfortunately lost an eye and needed minor surgery, but the inside, however, remained totally intact, and so did the ball, despite hours of on-and-off chewing.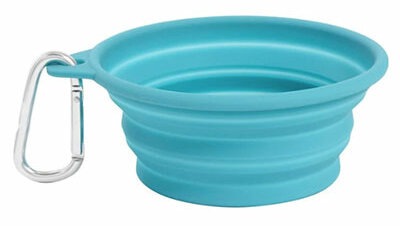 When I brought Gemma home three years ago, I knew I wanted her to be an adventure-seeking dog, which meant I needed to gear up properly for us to both enjoy our time outside. I purchased a small portable water bottle for her and it worked great for probably the first year, but then her face just got too big to be able to drink out of it properly. I had been meaning to purchase a travel bowl that we could bring along with us on walks and hikes, but never got around to it, so I was stoked to see it included in the box.
It holds about 1.5 cups of water so it was just enough to keep Gemma hydrated during our hikes. It's collapsible and comes with a carabiner attached, so it's super portable and an easy addition to clip onto your bag. It's also silicone, so cleaning it was a breeze and it dried almost instantly.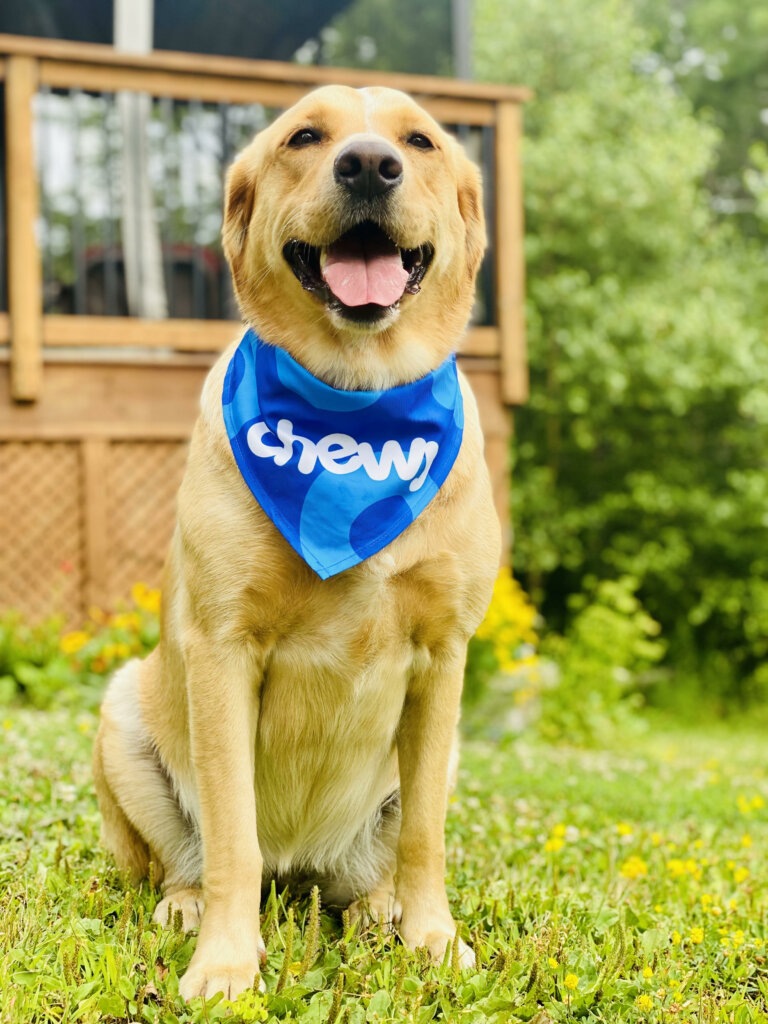 For a dog who rarely wears bandanas, Gemma was super keen to try this one. Gemma has pretty sensitive skin which makes it a challenge to get her to keep a bandana on, so having her be able to wear it for any extended period of time was a huge win. It's super soft and made from very breathable fabric, perfect for the summertime heat. Where she's a larger dog, I appreciated having the larger size selection available, and there are small options for tinier pups.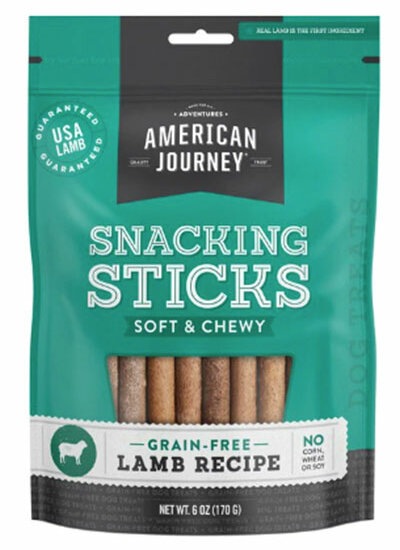 Gemma had never had lamb before so I was a little hesitant to see how/if she would like these snacking sticks from American Journey. One stick and I quickly realized, there was nothing to be worried about – she absolutely loved them! These soft, chewy snacks are made with real lamb and no meat by-product meals, which is a total win.
Personally, I broke a few up and used them as training essentials (which was super easy to do), but I also gave her a whole stick as a quick on-the-go snack. With zero grains, corn, wheat, soy, or artificial preservatives, flavours, or colours, these were really easy on Gemma's stomach and she genuinely enjoyed the lamb!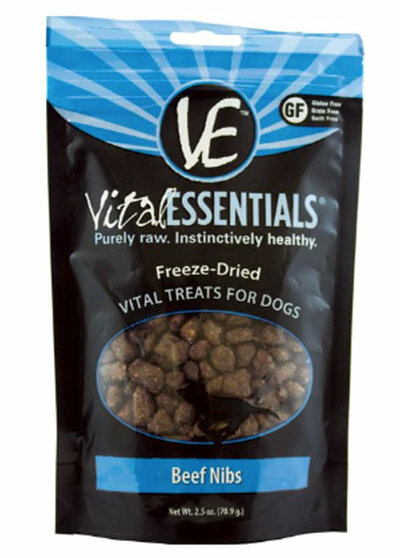 Gemma is still quite young, so we're always looking to add to our training and skills along the way. Any dog owner would know that in order to properly train, many dogs (especially her breed) are (or can be) super food motivated – this means LOTS of treats. And while I'm not opposed to feeding her fun foods, everything has to be in moderation to keep her feeling her best. Cue the Vital Essentials® Freeze-Dried Beef Nibs – these are made from pure, raw, freeze-dried meat and do not contain any added hormones or antibiotics.
With Gemma having such a sensitive stomach, I was also happy to see that these were also grain-free and gluten-free. We gave them a go on our walks and sure enough, Gemma couldn't get enough! And with the amount of nutrients that they offered, I was more than comfortable with letting her have her fair share. The best part is that it never once bothered her stomach! In fact, they may have even helped. The box included the 2.5oz bag but there is also a 6.2oz bag available. I'll certainly be looking to add these to our treat bag!
---
The Verdict
Gemma & I would certainly give two paws up for the Chewy Goody Box! Whether you're looking for a gotcha-day present, pet birthday, or a 'just because' treat, the Goody Box is a great idea. It was the perfect number of items and offered a great variety of toys and treats to try out. I did really appreciate the fact that Chewy recognized that there can be a difference in pet wants and needs based on size. So, having the option for a small/medium and medium/large dog was an excellent idea. Without a doubt, we'll definitely be trying to get my paws on another Chewy Goody Box soon!
Looking for some more cute toys for your furry friend from Chewy? Check out these hilariously cute dog toys!