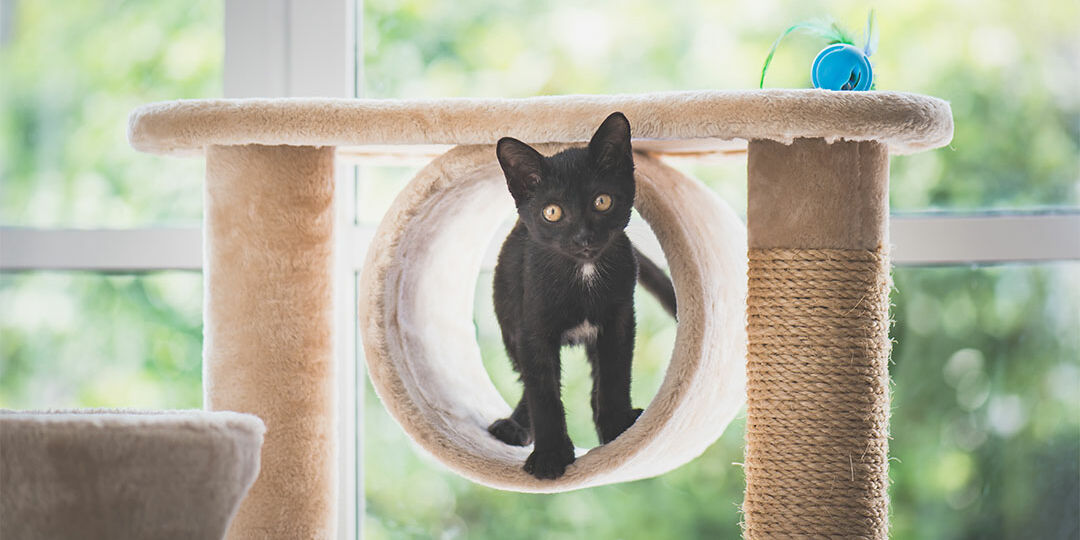 Cat-Approved Condos
Disclosure: The cat-approved condos below contain affiliate links, which means we'll receive a commission if you click on a link. We hope you like our picks – click or tap the titles to shop!
Looking to add a little bit of excitement into your feline friend's life? A cat condo/tree is a purr-fect way to make your space more inviting and exciting for your cat or kitten – especially if they're more of an indoor kind of kitty. A cat condo is a great way to let your cat climb, explore, and observe what's going on in your house. It provides a safe environment for them and can definitely save your furniture if you can get them to use it as a scratching post too! Below, we've rounded up some of the best cat-approved condos that you should invest in.
This spacious perch is going to make your cats feel like they're on top of the world! With four sections to choose from, this is the optimal condo if you have multiple cats in one household.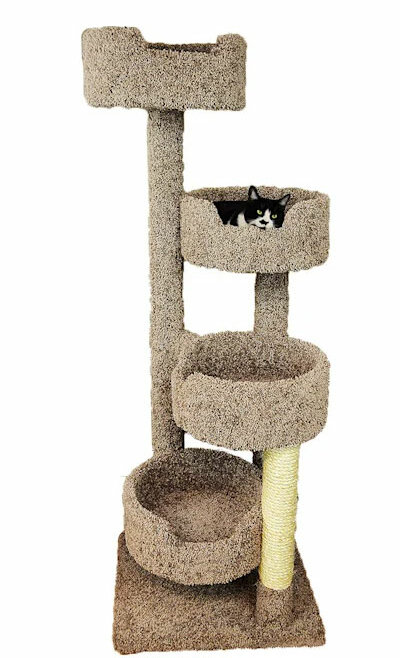 This double-decker condo is the perfect addition to your house without compromising style. It's contemporary modern look and feel features a variety of resting and perching surfaces. Definitely made for a spoiled kitty!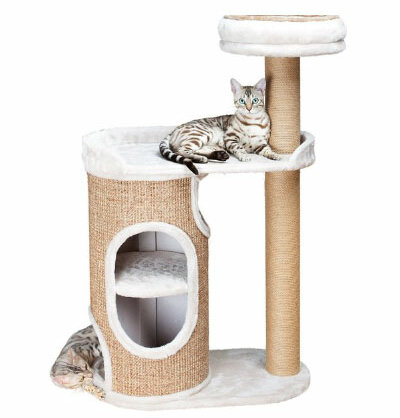 This sleek and modern-styled cat tree will look great anywhere in your home. It'll help satisfy alllllll your cat's needs – from enrichment, scratching, privacy, and comfort, your feline friend will have lots of options on where to lounge and watch the world go by.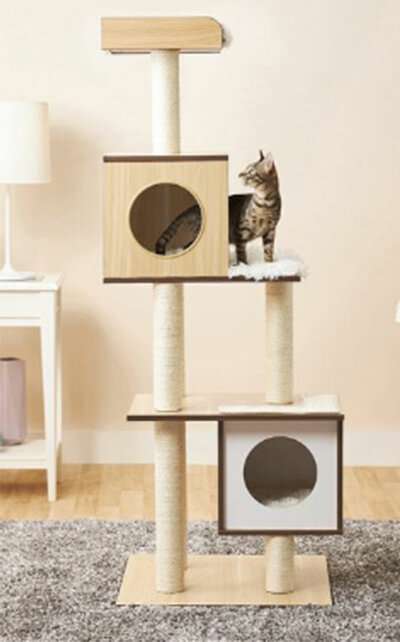 Do you have a clowder of cats at home & need some extra lounging space for them? Look no further. This extra-large cat tree is durable and the perfect solution to keep your furniture in one piece. Featuring seven platforms, this tower offers plenty of choices to climb, play, and rest.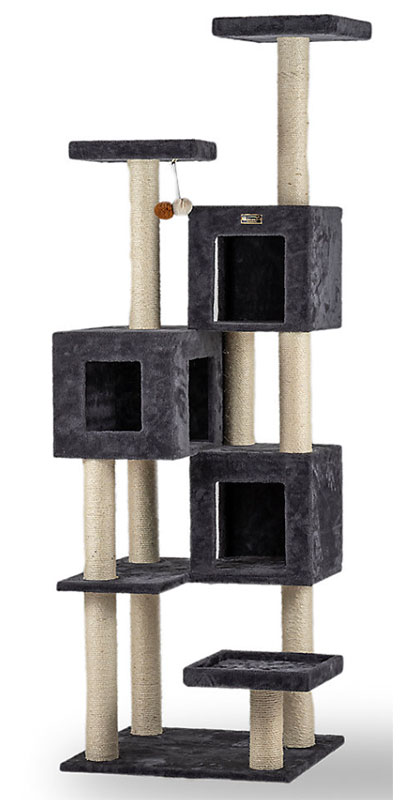 Your fur-baby will be living the life of luxury with this cat tree condo from Chewy. Featuring a top perch, spacious condo, hammock and basket, you cats will be living it up all day long. It even includes a strap so that you can attach it to a wall for extra stability and security for your furry friend.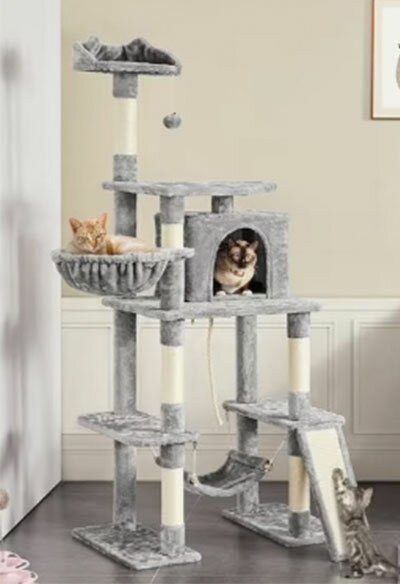 This reliable and durable cat tree from Go Pet Club will allow for endless amounts of playtime for your kitty. Plus, the roomy condo is great for privacy and comfort, purr-fect for those uninterrupted cat naps.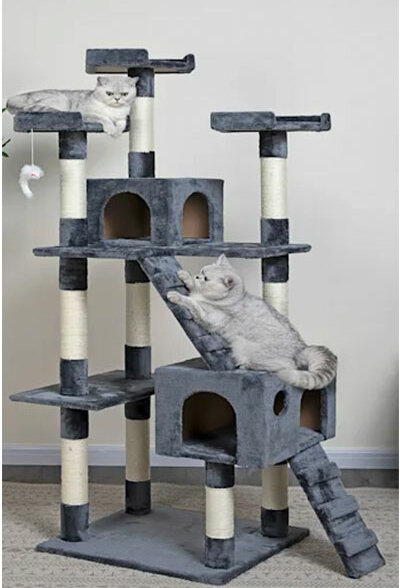 Due to its light cerulean blue colour, this cat condo is going to attract your cats to want to spend all their free time lounging in it! Not only is it built with spacious perches, it offers a bottom condo section which is the ultimate lounging spot, bound to provide a luxurious napping experience for your feline friends.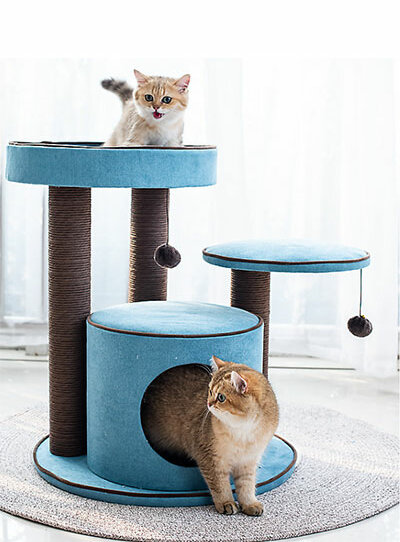 Looking for the ultimate cat tree/condo for your feline's? Look no further. This cat tree & condo from Chewy is bound to provide a high-quality and fun activity center for your kitties to enjoy. Not only are there perches and lots of cozy spots to take a quick cat nap, but it features 8 sisal scratching posts and an interactive bungee cord with a fur ball for playtime. It's even customizable, so you can optimize it for all your cat's needs and wants.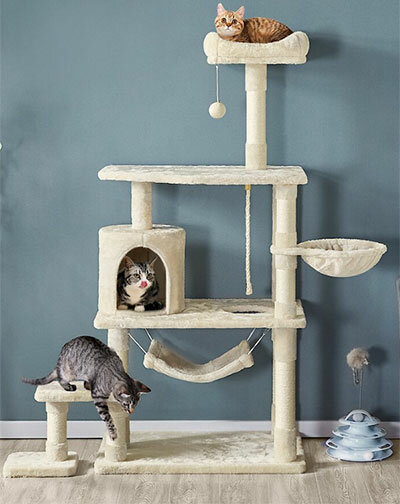 Looking to create some more fun for your cat? Check out how to DIY the purr-fect cat toys your feline friends are bound to love!