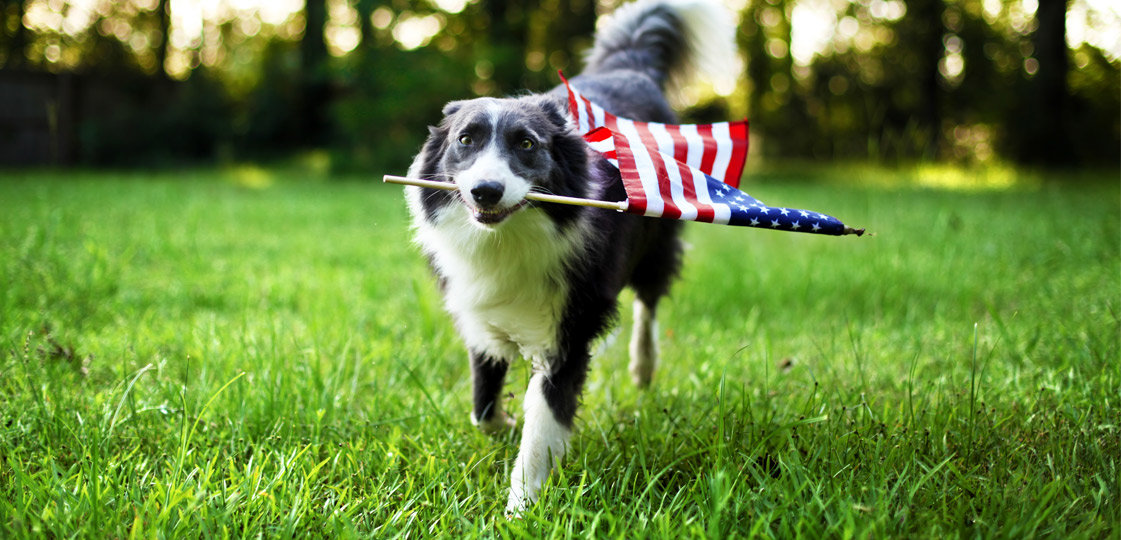 How to Keep Your Dog Safe on the 4th of July
The burning smells, random flashes of light, loud booming and crashing—fireworks may be fun for us humans, but they can be terrifying for your dog. Sadly, more pets get lost on the 4th of July than any other day of the year. It's a natural instinct to run away when spooked by loud noises. Be sure your sweet pups are in good shape by reading our tips on how to keep your dog safe on the 4th of July.
BRING THEM INSIDE.
Again, loud noises, weird burning smells—not good for your pup. Make sure you bring them inside so you can keep an eye on them and comfort them when needed.
PUT (AND KEEP) THEIR COLLAR ON.
As mentioned above, your pup should stay inside at all times. Just in case your dog does escape though, be sure they are wearing their collar. If you haven't gotten them microchipped, now (like today!) is a good time.
TAKE THEM FOR A LONG WALK.
Before the sun goes down and the parties and fireworks start, take them on a long walk so they can burn off some energy. This will make them more relaxed and help alleviate any extra anxiety.
KEEP THEM COOL.
July 4th can bring hot temperatures. If you're taking your dog on a walk during the day or stopping by a friend's picnic in the park, be sure they have enough shade and water. Consider leaving them at home if you think you might be outdoors in the sun for a while. If they are outside at all, remember to keep them collared and leashed at all times.
HEADED OUT? DON'T TAKE THEM WITH YOU.
If you're going to a friend's backyard barbeque or to watch a fireworks show, leave your dog at home. Not only will the display scare them, but a bunch of strangers coupled with the loud scary noises and smells will add to their anxiety. It's also a good idea to hire a pet sitter to come to your place and hang with your pup while you're away.
STAY HOME TO COMFORT THEM.
Or, better yet, consider staying home. You'll be able to watch over them and comfort them if they seem distressed. They love you and want to spend every second of every day with you, especially when they sense danger. Pay them back for all the cuddles and emotional support by offering it right back.
CREATE A COZY SPACE.
Give them a small, cozy place to take shelter, perhaps in your bedroom, office or a crate (only if you normally crate them). Include their bed, a special blanket, their favorite toy and plenty of water. You can also play soft music or put on the TV to drown out any fireworks. And again, they love to be near you, so consider hanging out in or near this special place.
HAVING A PARTY? REMEMBER YOUR ROOMMATE.
If you're having people over to your house, remember your dog may not like a large group of strangers on top of the lights, smells and sounds of this holiday. Make sure to keep them in their special place and check in on them from time to time.
WATCH YOUR GUESTS.
That guy your friend brought who you don't know that well? Be sure friends (both old and new) know that your dog isn't allowed scraps and that he/she isn't a big fan of roughhousing or being picked up.
KEEP FIREWORKS & ACCESSORIES OUT OF PAW REACH.
If you are playing with sparklers or any other fireworks, keep them and any matches or lighter fluid far away from your pets. And definitely, don't play with any fireworks around them.
If you have any other tips on how to keep your dog safe on the 4th of July, let us know in the comments below. Also, check out this article on What to Do When You Find a Lost Pet.