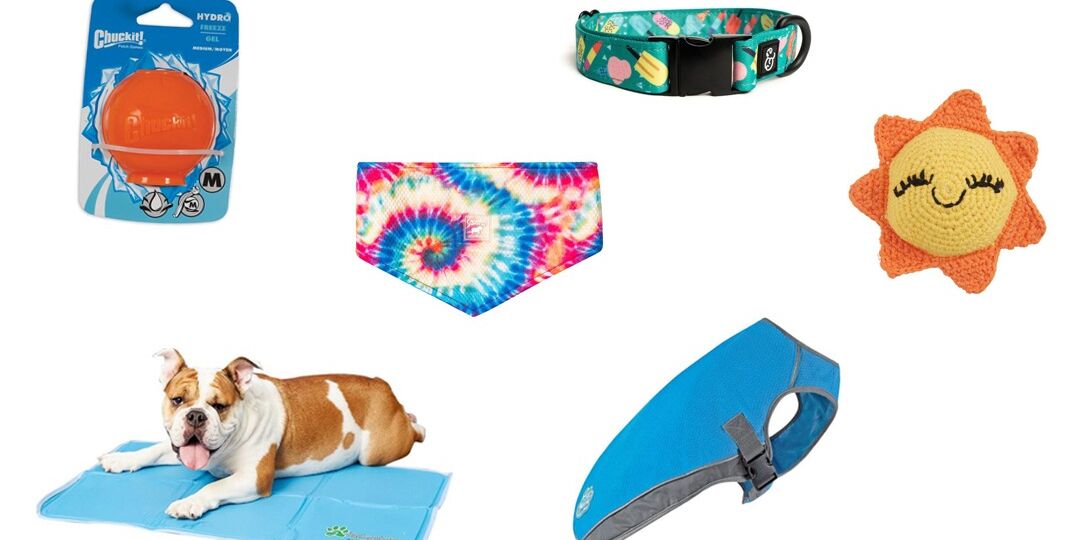 Summer Dog Essentials For The New Season
Disclosure: These summer dog essentials contain affiliate links, which means we may receive a commission if you click on a link. But don't fret, our dogs would never bark to us again if we were to feature anything we didn't genuinely love. Click the titles to shop!
Summer is here — is your pup all stocked up on the essentials? Whether you're planning on packing them up in a backpack for a hike or just want to shake things up in the toy department, we've rounded up the best summer dog essentials for the warm weather!

Switch it up this summer with a seasonally appropriate collar! Just because your pup can't enjoy all the tasty ice cream treats doesn't mean they can't wear them all season.

Keep your dog's mind sharp this summer with this weekend-inspired hide and seek toy!

Make sure your four-legged friend is prepared for the dog days of summer (pun intended) with this psychedelic cooling bandana!

Quickly cool down your dog with this pressure-activated Cool Pet Pad. You don't even have to plug it in or put it in the refrigerator overnight to start the cooling process. As soon as your pet's paws hit the mat, the cooling effect starts and can last for up to four hours. (We totally wish it came in human size!)

Keep your doggo comfy for the adventure with this ventilated backpack! It comes in plenty of sizes and color options too, so you can totally color coordinate with the rest of your summer gear.

This nifty toy is designed to hold water and be frozen for a totally cool, refreshing way to play with your furry friend.

All you need to do is add water to this vest — the circulation-enhancing mesh layers create an evaporative cooling effect for your pup on the season's warmest days!

Add a little sunshine to their toy collection with this adorable squeaker!
While you're focused on keeping your dog cool this season, don't forget to show their teeth some TLC, too! Here are all the dog dental accessories you need to keep their pearly whites sparkling in between dental cleanings.