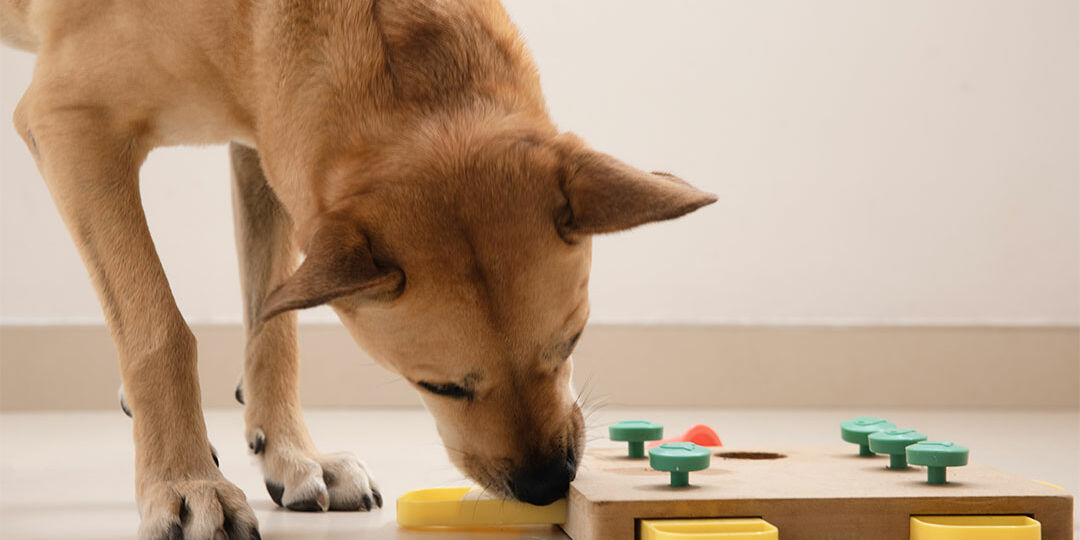 5 Brain Games for Your Pup
Disclosure: The brain games for your pup below contain affiliate links, which means we may receive a commission if you click on a link. But don't fret, our pups would never forgive us if we were to feature products we didn't genuinely love. Click the titles to shop!
Keeping your dog busy can be one of the more challenging tasks as an owner, especially when the weather isn't cooperating, and you can't get outside for your daily walk. Luckily, there are loads of mental stimulation activities like brain games that can keep your pooch busy and burn off some energy. Mentally stimulating activities are excellent sources of enrichment for dogs and can help alleviate boredom and decrease the likelihood of your pup developing behavioral issues like excessive chewing or barking. So, if you're in need of some ideas, we've gathered up some awesome brain games you can challenge your dog's mind with, while keeping them out of trouble!
1. The Shell Game
A great game to start with is simple but keeps your dog focused and gives them plenty of mental stimulation. The Shell Game Is probably one you've seen before – it's the game where a treat is hidden under one cup (or shell) and then shuffled around. Here's how to play:
Grab three (3) cups and some treats
Have your dog watch as you place a treat under one of the three (3) cups
Shuffle the cups around
Encourage your dog to find the cup with the treat underneath
This game is an excellent way to encourage your pooch to work on their problem-solving skills.
2. Food Dispensing Toys
If you're looking for something that will still keep your pup preoccupied but want them to be a little more independent, try a food dispensing toy. Food dispensing toys requires your dog to work to figure out how to obtain the food you've put in the toy. These are great brain games to help keep your dog busy. As with other food-related games, they give your pooch a chance to use their natural scavenging abilities in a new, fun, and exciting way. Most dogs are pretty receptive to the idea of having to work for their food, so give it a shot. Here are some options to consider:
This action-packed treat and food dispensing toy sits upright until pushed over by a dog's paw or nose and periodically dispenses a treat as a reward. It spins, wobbles, and rolls and with its unpredictable movement, it'll keep you dog focused and entertained without any problem.

Perfect for long-lasting fun, this squeaky treat dispenser works to keep your dog focused and entertained. Even better, it has varied textures that can help clean and massage your pup's teeth and gums while they chew and work for those rewards!

3. Find the Treats
A personal fav I play with my dog on days when it's just too rainy or cold out is Find the Treats. It's a simple nose work game that allows your dog to use some of their natural sniffing and scavenging abilities. Here's how to play:
Grab some treats and have your pup sit in a stay position
While your dog is sitting, put some treats on the ground around them and then give them the release commands to "go find the treats". Practice a few times so they start to get the idea of what "find the treats" means, then start placing treats in different and more challenging areas.
Repeat until they lose interest or tire themselves out!
Keep in mind that if your dog isn't used to this type of game, it may take a few tries for them to catch on, so be patient! Once they get good at it, try hiding treats under rugs, on furniture, behind curtains, buried in blankets etc. All the various hiding spots will keep it exciting for them and will help keep them entertained for a while.
4. Dog Puzzles
Dog puzzles come in all shapes and varieties, so you'll definitely be able to find one that fits your dog's needs. The whole point of dog puzzles is that they have to figure out how to get the reward i.e., the treats. Dog puzzles are available in most pet stores but here are a few of our favs:
This sushi brain puzzle is the perfect way to promote your dog's cognitive abilities while keeping them busy. Just place some food into the compartments, move the sushi flippers to cover the food puzzle's tracks and watch your pup sniff out the treats.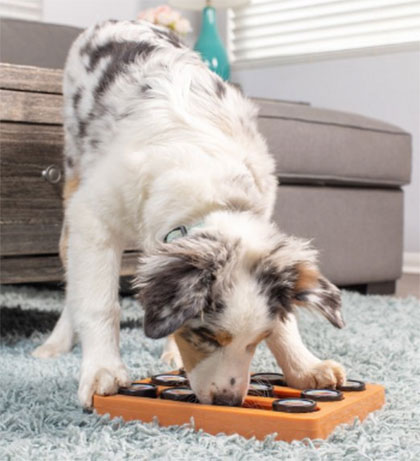 This challenging dog puzzle features 3 tiers with 12 compartments for dog treats or kibble. This mentally stimulating and entertaining dog game encourages your pup to spin the puzzle's layers to reveal the rewards.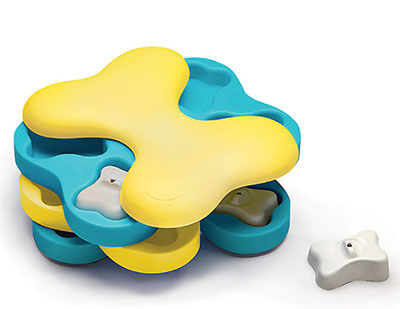 Some of these can be quite challenging, others are relatively basic and can be solved pretty quickly. You can gauge your dog's interest in puzzles as you go, and work to determine what level of difficulty is best for them and their needs.
5. Red Light Green Light
This is a great game to play with a dog who tends to get wound up during play and can become overly enthusiastic. It works to improve a dog's impulse control and reminds them to pay attention, no matter how much fun you may be having. To play, start by teaching your pup the difference between "red light" (or stop), "green light" (or go). Begin by having your dog sit and stay then say "Green Light" to encourage them to run around or chase a toy or lure. As you're playing, make sure your dog stays focused on you. When you say, "Red Light", immediately tell your dog to sit or lie down (whatever is easiest). Continue repeating this to tire them out! This is a great combo of a game and training.
Looking for some essentials to purchase for your pup this winter? We got you covered! Here are our favs from Chewy worth the splurge!